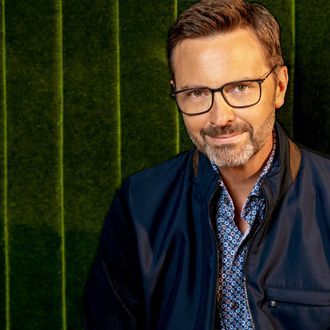 Born: June 9, 1966 
History in gospel music: The Sound April, 1987-October, 1990. The Cathedrals: December 1990-December 1999. Legacy Five: January 2000-present 
First Gospel concert ever attended:  The Cathedrals
Wife:  Taryn   Anniversary:  December 20, 1997 
Children:  Preston Davis Vernon Fowler & Bailey Eric Fowler 
Hobbies & pastimes:  Politics, Racquetball, Pickle-ball, snowmobiling, being outdoors and hanging with the family. 
Awards & Commendations:  Favorite Baritone & Favorite Lead (Singing News Fan Awards), Humanitarian Award (Southern Gospel Music Guild) 
Favorite Scripture: Jeremiah 29:11 
Favorite Quote:  "Life is not a dress rehearsal… this is the real thing." 
Favorite gift:  Wedding ring given to me by my grandfather 
Most unique gift: An actual Florida voting machine used in the famous Presidential contest in 2000 between George W. Bush and Al Gore. 
Something most people don't know about Scott:  Spent 2 years in nursing school and was a contestant on The Price is Right. Scott Eric Fowler, co-founder, lead singer and manager for Legacy Five, was born the youngest of four kids on July 9, 1966 in St. Louis, Missouri.